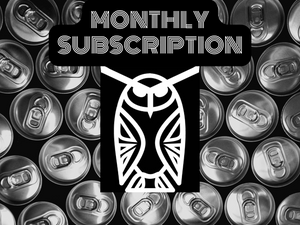 The Monthly Subscription includes:
12x cans of hoppy beer (note: this will be an assortment of the beers we have at the time of shipping. We will ship as many different beer brands as possible, likely 3-4+ different beers, however, we cannot guarantee exactly how many different beers you will get. You will get a mix of 12 total hoppy beers (IPA, DIPA, and on occasion pale ale).
Access to the freshest hoppy beer we make! Most weeks will likely be composed of either 8x 6.5% IPA & 4x 8.2% DIPA split between as many different varieties as possible (again we cannot guarantee this, however this is the most likely composition of the monthly subscription). 
Fast delivery! 

Beer ships on Monday each week and **most orders** should be delivered everywhere in Ontario within 1-2 business days. In some major city hubs it can even be as quick as next day. If you live in the outskirts of Thunder Bay (or it is holiday season), it may take the full business week. 

Option to cancel at anytime (note: must cancel before Thursday each subscription week. Once the transaction for that week has been processed (on Thursday morning), cancellation will be take effect the following week). 
NOTE: If you are looking for guaranteed access to ALL the beers we make, and other bonuses, perks and privileges, we recommend checking out our weekly subscription
Note on Shipping:
MUST BE 19+ TO ORDER and No P.O Boxes. 

This is a monthly subscription that renews on purchase date (i.e. if you purchase this on 15 January, your next subscription transaction will charge on 15 February). 

We cannot guarantee shipping timeline. Our shipping carrier(s) assure us all beer should be delivered in 1-3 business days within Ontario, but ultimately we have no control over this.
That's why we only ship Monday, to give the beer maximum time to get to you without getting stuck in a warehouse over the weekend. We want to get it to you AFFAP! (As Fresh/Fast As Possible!)
We package beer every week, and they are always kept cold until time of shipment. What this means is that when you get beer from us it is a) in fantastic condition b) exceptionally fresh and delicious.